Ableton is a name that anyone who wants to make electronic music and who is interested in music programs has heard it at least once. - What does it work, who uses it, what can be done with this program ? - if you're wondering, you're in the right place. Keep reading, you are about to find out what Ableton is!
'Make Music' is a very broad expression. It includes different terms such as composition, live performance, arrangement or recording.
Ableton is the most suitable program to meet the needs of an individual who wants to make music electronically. People who want to be a DJ and people who want to make a film of music can achieve its goal by using Ableton.
What is Ableton?
To make a formal and tidy definition; Ableton is a music making application written in C ++, the first version of which was released in 2001. It is designed for only desktop computers and is available in different versions for Mac and Windows operating systems.
The programs used to make music offer a limited experience for users. For example, some programs are preferred for recording and editing, while others are used entirely for sound engineering or to produce new sounds electronically.
So why is that?
There's a simple answer: they're designed like that. You may think like messaging applications. There are a lot of messaging applications and they all have their own way of use. Some are more popular and some are used for specific tasks.
Ableton brings together the process of making music under two headings: live and studio - and it includes two different frames . Users can switch between frames according to their needs.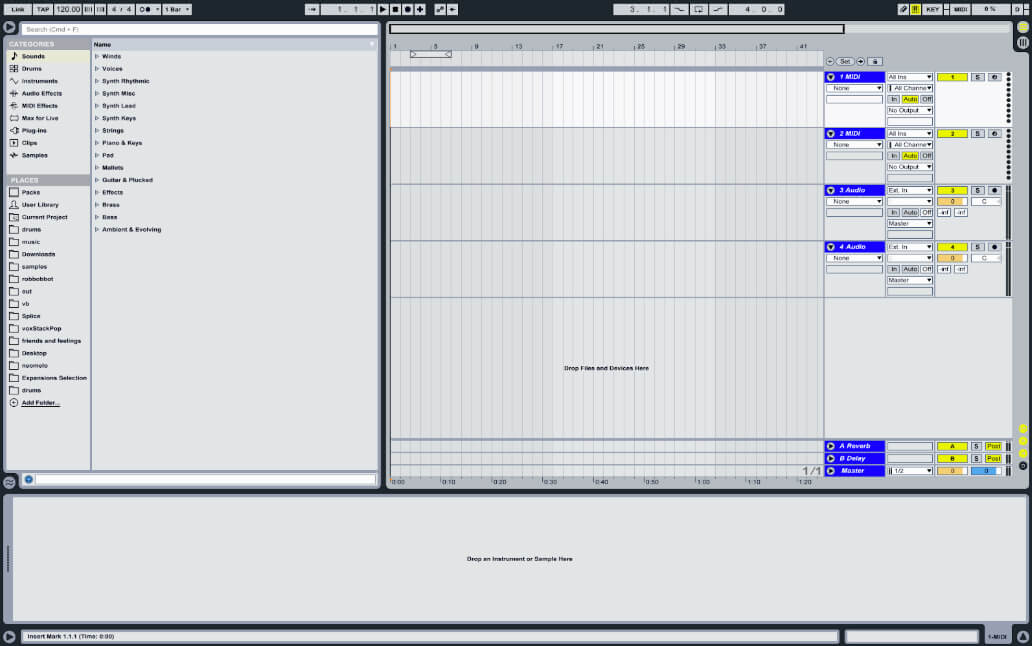 What is Ableton's Difference?
The most important issue that makes Ableton different from other programs is resource management. This is a bit of a technical matter (and you won't need this information when making music), but anyone who is serious about making music needs to master the difference.
The computer is a machine that can perform small electronic operations in quick succession. The speed and success of performing these operations; depending on the computer's disk space, processor power, and operations management.
In other words, for a program to give maximum efficiency on a computer, it is important not only that the computer is fast, but also how the program manages the operations.
Ableton is one of the music programs that makes resource management the most effective. The reason for this success lies in years of experience and a thorough engineering and optimization work.
This resource management issue is not very important for beginners to make music. But as projects grow and more elements begin to take place, if you work with an inadequate program, you may experience loss or degradation of sound.
We don't want to confuse you with numbers and strange graphics. For now, you only need to know this difference.
How to Use Ableton
Ableton is a program with paid and free (demo) versions. As you can imagine, the number of vehicles you access will vary depending on the version you choose.
The purpose of the free version is to prepare users for the interface of the program and give general information about Ableton. Therefore, it does not contain much richness in the name of sound diversity. In paid versions you can access Ableton's own audio and instrument library according to the version you choose.
Don't let this fool you. You don't have to spend crazy coins to make good music. Ableton's technology allows you to install small plug-ins that are available free of charge - if you use them effectively, you can capture the style you want without spending any money.
Ableton does this through VST (Virtual Studio Technology). There are hundreds of thousands of VST plugins available on the Internet that can be accessed with a little research.
Ableton and MIDI
You don't have to import your songs in Ableton only in digital music formats such as WAV or AIFF - the program offers users the convenience of working in MIDI format.
You can use the MIDI format that you get from Ableton in other music programs or the MIDI output from other music programs with Ableton.
For example, you can export the compositions you have written in the Sibelius program to MIDI and export them to Ableton. You can then use the instruments at Ableton to produce richer and more colorful pieces.
Learn Ableton
To learn how to use Ableton, you don't need to be anything but a little curious. The Internet - and especially YouTube - is full of free videos on how to use Ableton!
But before diving into this great music program, you need to make sure you have a solid music base. Yes, you can make music at Ableton without music knowledge. But with a solid knowledge of music theory, it will be much easier to both write and enrich your compositions.
So before you start learning Ableton, you must begin to reinforce your knowledge of music.
If you think "Where should I start in music?", You are looking at your answer right now! With musiconline , you can enjoy online music lessons anytime, anywhere.
All you need is a computer and an internet connection. After you want to make music, all you need is at your fingertips. :)